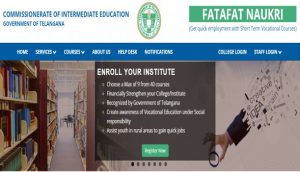 It is quite important that the administration leverages technology to increase citizen participation in order to spread their programs among masses. The greatest threat to the society by the rapid technological changes that have taken place during the recent years is the displacement of labor by the technology.
The Commissionerate of Intermediate Education, Telangana has introduced Short term Certificate courses with duration of 3 months, 6 months & 1 year to enable SSC failed/passed students who wish to earn their livelihood in a short span of time.
To provide diversification of educational opportunities
To enhance individual employability
To reduce mismatch between the demand and supply of skilled man power
As of now, 40 skill oriented courses have been introduced in the sectors of Engineering, Information Technology, Commerce / Retail, Home Science, Animal Husbandry, Paramedical and other areas. The testing, evaluation and certification of Short Term Vocational Courses is done by the State Institute of Vocational Education (SIVE) in the Commissionerate of Intermediate Education, Telangana State.
In order to facilitate the entire flow and process seamlessly, the Commissionerate of Intermediate Education, Telangana State desired to implement a web-based software which can handle Online College Affiliation, Student Registration Process and Exam Management. Swift was successfully awarded with this project through a legal tender process.
The aim of this portal is to facilitate quick jobs for the following modules are developed as part of the web portal.
College Affiliation & Renewal

College Registration This module allows any institution/society to get registered by uploading their detailed information. There is an ability in the system to authenticate the user using a One-Time-Password (OTP) on their mobile.
Sanction of Additional Sections
College Renewal – Existing colleges are renewed every academic year and the software handles this effectively using proper authentication techniques.
Student Enrollment & Registration

Student Application Process
Documents Upload (Relevant documents like Aadhar, Qualification document)
OTP Based Registration

College & Student Online Payment Module (Payment Gateway Integration)
Course Management

Ability provided to Admin to create new course and manage existing courses
Sanction of Courses
Sanction of Additional Courses

Verification Process (By Role)

One of the key features is to allow transparent verification of the documents at all levels. The verification process involves updating the status online with proper documentation and comments. The verification results are digitally signed and forwarded to the next level.

Exam Management

Hall-Ticket Generation – Every college can download the PDFs of the Hall-ticket for their students with the students photos printed on it. System digitally creates the hall-tickets.
Center Allotment – System allots the center for students by automatically choosing the nearest government college
Externals Allotment
Manage Internals Marks
Manage External Marks
Manage Theory Marks
Results Engine (To calculate Results based on the marks)
Generate Grade Cards
Generate Certificates for Passed Students

User Management

Manage Role types (Super Admin/Administrator/DIEO/Reader/Commissioner)
Manage User Accounts

Intuitive Dashboard

Super Admin (Display Overall Summary of Affiliations and Registrations)
Admin/Reader/Assistant Director Dashboard – All the above Dashboards have the ability to verify and the following methodologies pending using Digital Signature

 College Affiliations
College Renewals
Student Verification
Additional Courses
Additional Sections

Commissioner Dashboard – Ability to verify and approve all the above using Digital Signature
Extensive Reporting at all levels

College Affiliation Status (At College/DIEO/Admin/Commissioner levels)
Payment Status (College & Student)
Student Registration Status
District-wise College Report
Course-wise Report
Externals Listing
Marks Entry Status (For Admin/Commissioner) at Internals/Externals/Theory levels
Course List
Hall Tickets (PDF)
Grade Cards (PDF)
Certificates (PDF)
Renewal Listing
SALIENT FEATURES OF THE WEB-PORTAL
Hierarchical based approvals for colleges and students
Payment Gateway Integration
SMS & Email based communication at all levels
OTP Based Registration and Authentication
Check current Registration Status for College/Student
Digital Signature based approvals at all levels
Safe search – Ability to search courses by Location/Qualification
College Past Results History
Document Management (Official Proceedings)
The software was developed using Microsoft Technologies (Visual Studio.NET) as the Front-end interface and SQL Server 2014 as the back-end database.
[The author manages the technical support of this project at SIVE and can be reached at sayeed@eswiftsoftware.com or +91-9573302126 for further clarifications.]